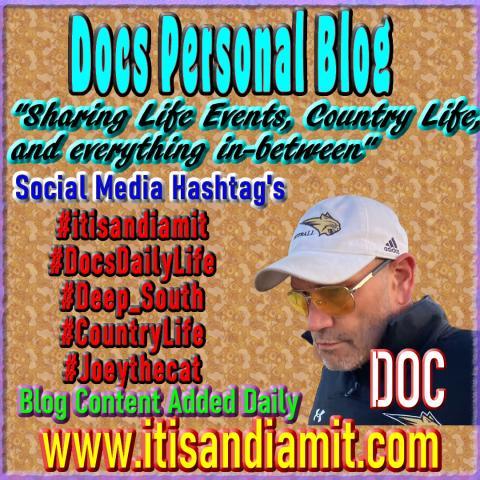 Docs Newest Blog Post 
Football Off-Season - Christmas is Close
December 4 , 2023 10:22 a.m.
YouTube  | TikTok | Twitter | Docs Facebook Page | Docs Bulldog Facebook | Bobcats Facebook
  I just spent another great season with the Giles County Bobcats Football Team, and I have a lot of videos, and images, to share from the Bobcats 2023 Football Season, that I have never shared before.  After taking the past week to reflect on the Season, and what I was going to cover next, I have decided that this off-season I will share all the videos and images I have not shared. I will start in the spring and work my way forward.  And, I have a few long form video ideas.  I still have a few Defensive Oakie-Dokie Periods, and Offensive Boards Periods, which I never shared.  Along with more GAMEDAY videos, from each of the Bobcats Football games, this season.  
   Last off-season, I covered Puddin and my Joey the Claw (Our Cat).  Along with other videos.  But, this off-season I have a plan.  I will be going to a few Local Christmas Parades.  These are a couple: Pulaski Christmas Parade, and Florence Christmas Parade.  I have been asked about a couple others, but not sure on those yet.  If you have asked me to be at your Christmas Parade, and you see me there, then you know I will have videos of the event. Sure, everyone will have videos, but I like to add a little more to each of my videos, to make them more interesting.  Plus, I will cover the key moments of each event I am at. My goal is to talk with others who are there, as well.
BLOG POST CONTINUES BELOW IMAGE.
"If you see In the Game, with DOC. You know."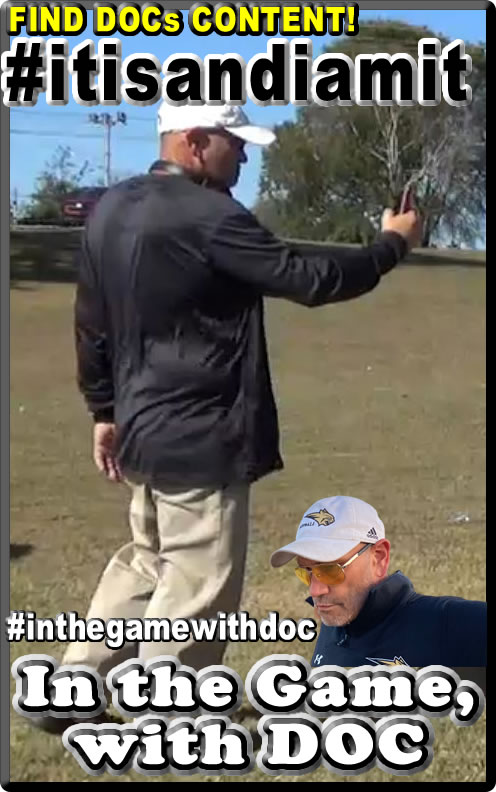 If you see DOC at an event, and want an interview, just say something.  The Bobcats Football Players will tell you, all you have to do is say something.  I try to respect others space, and I am not there to create a negative video on anything.  I have made a personal rule, to not create a video, if it is going to be negative, or cause anyone grief. 
   The way I see it is, I am documenting what is occurring, and sharing it with others to see in the future.  Just as anyone of us can do, and should do. Think about it, 20 years from now, I may not be here, but hopefully the videos I created, will be.  Along with, the memories of what occurred.  
  I am updating this website, and all of my websites during the off-season, as well.  www.CoachOC.us is going to be updated, and I am going to have a page for each player on the 2024 Team.  Along with, sharing more on Bobcats Alumni.  
  Again, I am going to attempt to keep my Blog more up-to-date.  And, I will be trying to share more about each video I create.  From this point on, I will share all the videos I create here, along with a little background story on each.  Plus, that will give me a chance to share more images and videos about that moment, as well. 
   During the season it is hard for me to do that.  You guys, who are at the School, on days I am there to film practice, you see me and Puddin walking, most the time.  That is because I have poor Wifi, and Cell Wifi, so I can not connect to my servers and work.  Sure, I can SSH in-to my servers, and maintain security and integrity. But, I can not load videos, or create videos.  Nor can I edit my websites.  So, I relax till practice time.  
BLOG POST CONTINUES BELOW IMAGE.
Giles County Bobcats Football Practice September 13, 2023 by In the Game with DOC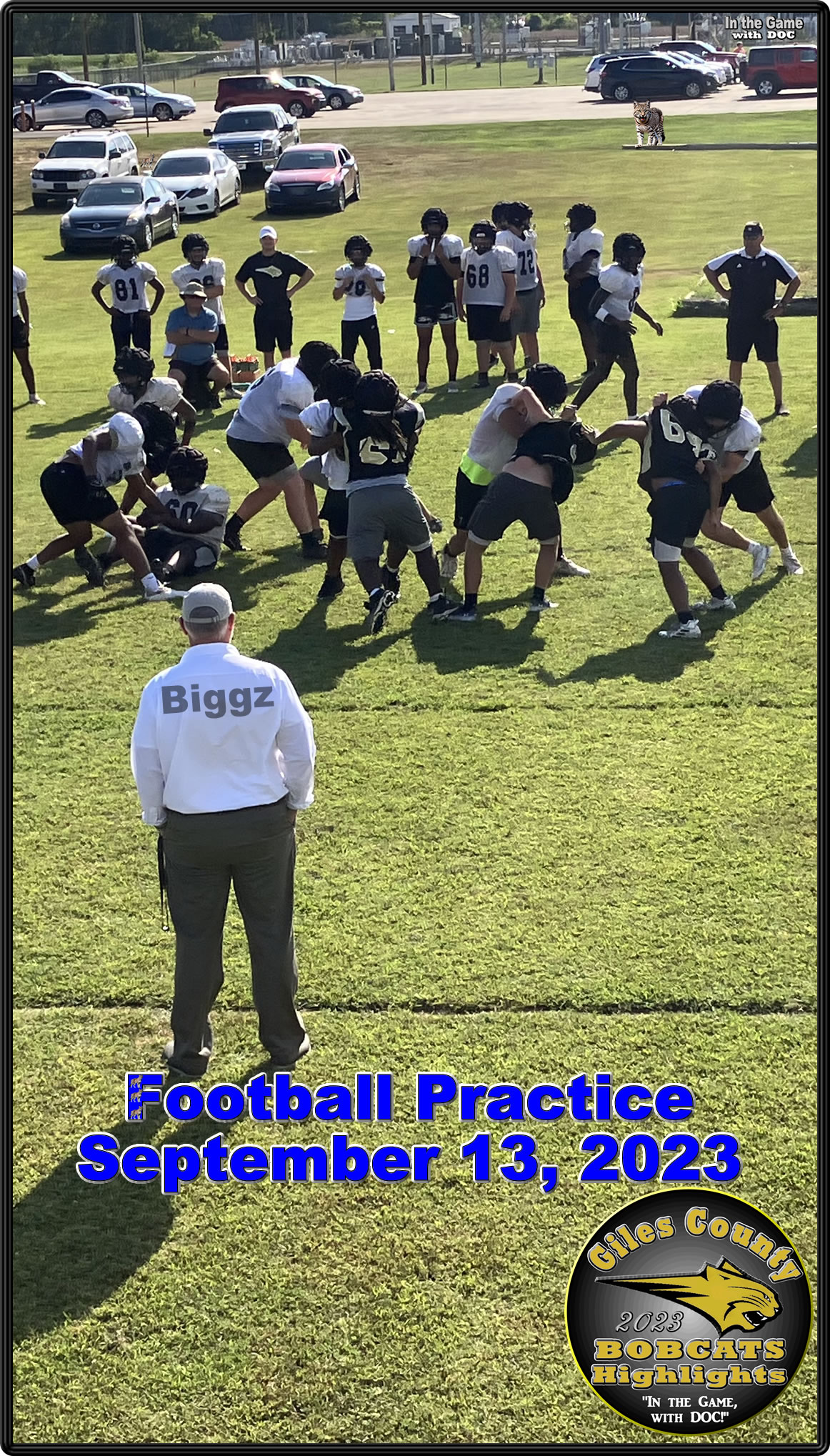 The primary video I record is never shared with others.  That video is for the Coaches and the Team.  It is very important to record all of your practices, and everything you do during practice. This is a great teaching tool for the Coaches, and it helps the Athletes improve their skills.  I can now share some of that Video.  It was practice video, and Coach OC would not be happy if I ever shared any of it, during the season.  The Season is over, and the next time we play each team, we will have a different game plan.  So, I can now share those videos.
  And that is what I am about to start working on.  I am going to start in the spring, and work my way forward.  I will also be going to Giles County on a regular basis, and checking-in on the Bobcats Football Teams winter workouts.  I will pop into more Sports Events and Winter Band Events, this Winter.  Remember, if you see In the Game  with DOC at your Event, then He will have Video on it.  It's hard to miss DOC, because he has his Big Black Dog Puddin' with him.
Giles County Bobcats Football Team takes a Break during 2023 Spring Game
Image Taken on Top of Sam Davis Park (The Brickyards) Press Box by In the Game with DOC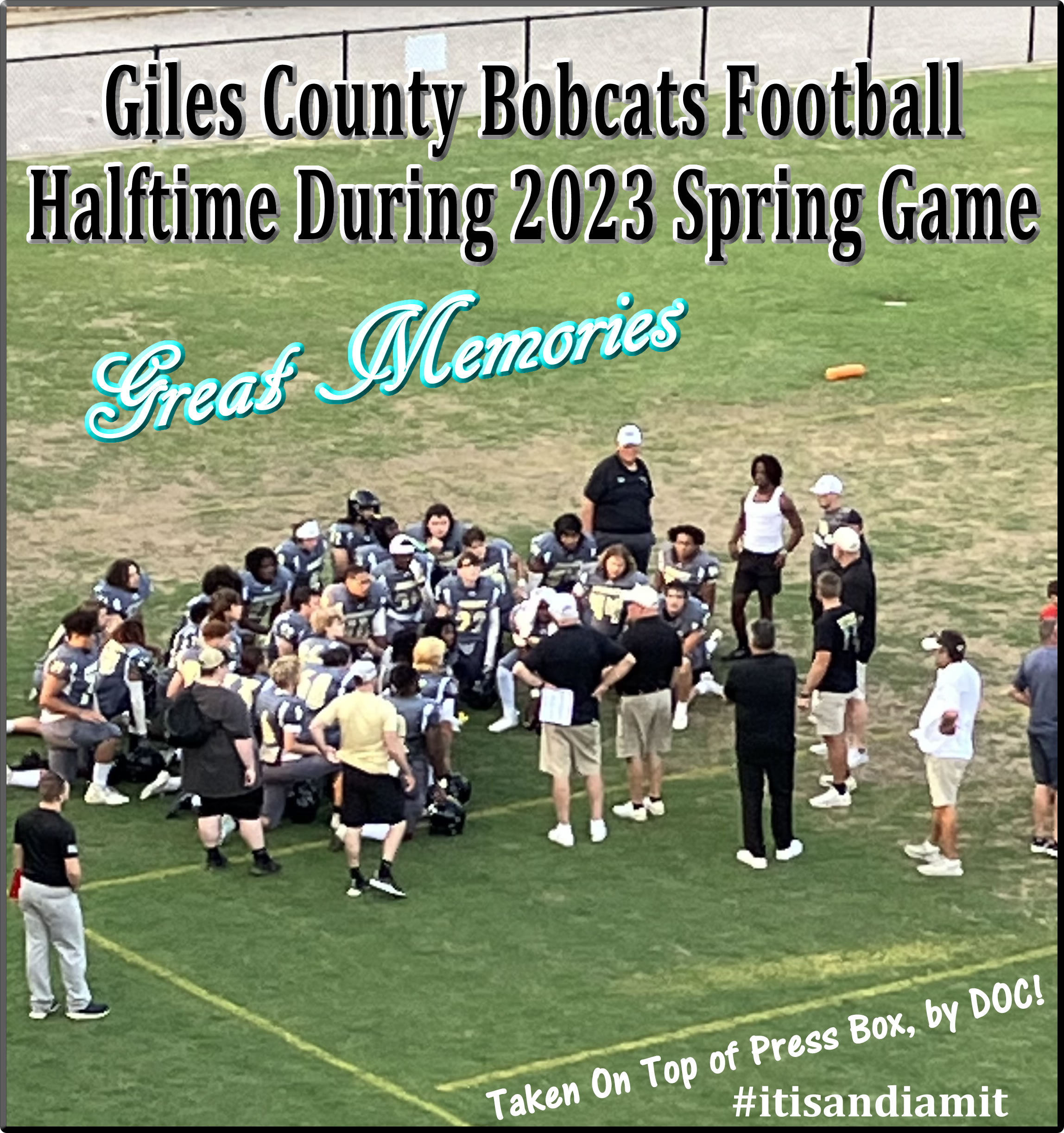 I remember looking to find my Brother, Coach OC. He was talking with the Bobcats Football Team, and I thought it was a great image.  I used my iPhone's camera.  So yes, I know I need to start using my daughters professional Camera.  I could have some fantastic images.  But, I let those who do that, do that.  I like creating videos.  Sure, I am going to start using a better camera for my images, but I still feel like I get some good shots, with my Cell Phone camera.  The videos are great.
  And, that is where  I am going to start my next video at.  I still have some more of the 2023 Senior Bobcats to speak with and share some video on. Plus, I will be sharing updates on the Bobcats Football Winter workouts.  I was very close to covering all sports and events at Giles County High School, and after the weekend, I decided that I was going to stick with what I am doing.  However, as I always say: "If you see me and Puddin' at your event, then you know that I am there to cover it. "  I wish the best to everyone, and I will be updating this Blog, on a regular basis.  Along with, sharing more about each video I create.  For example, last nights and yesterday, I created 2 videos.  Both on Puddin'.  They were my relax, and share with Friends and Family videos.  I will share some of the images, and more about the video on a page, here on this website.  And, I will be doing this for most videos I create, from this point on.  This is just a way for me to share more with you guys, and show you thanks for your support.  It is also a way for me to share more of my stories, and more about the events I cover.  I enjoy writing, and like to share my stories with videos, and by writing about them. While sharing images when I blog about the events.  Maybe this will allow me to share more about each event with you guys, and it will be fun to do it.  Thank all of you for your support, and for all of your help.  I would not be able to do this without your help and support. Thank you! -- Yeah! 
Puddin Gets Her Evening Workout in: "After Hours with Puddin"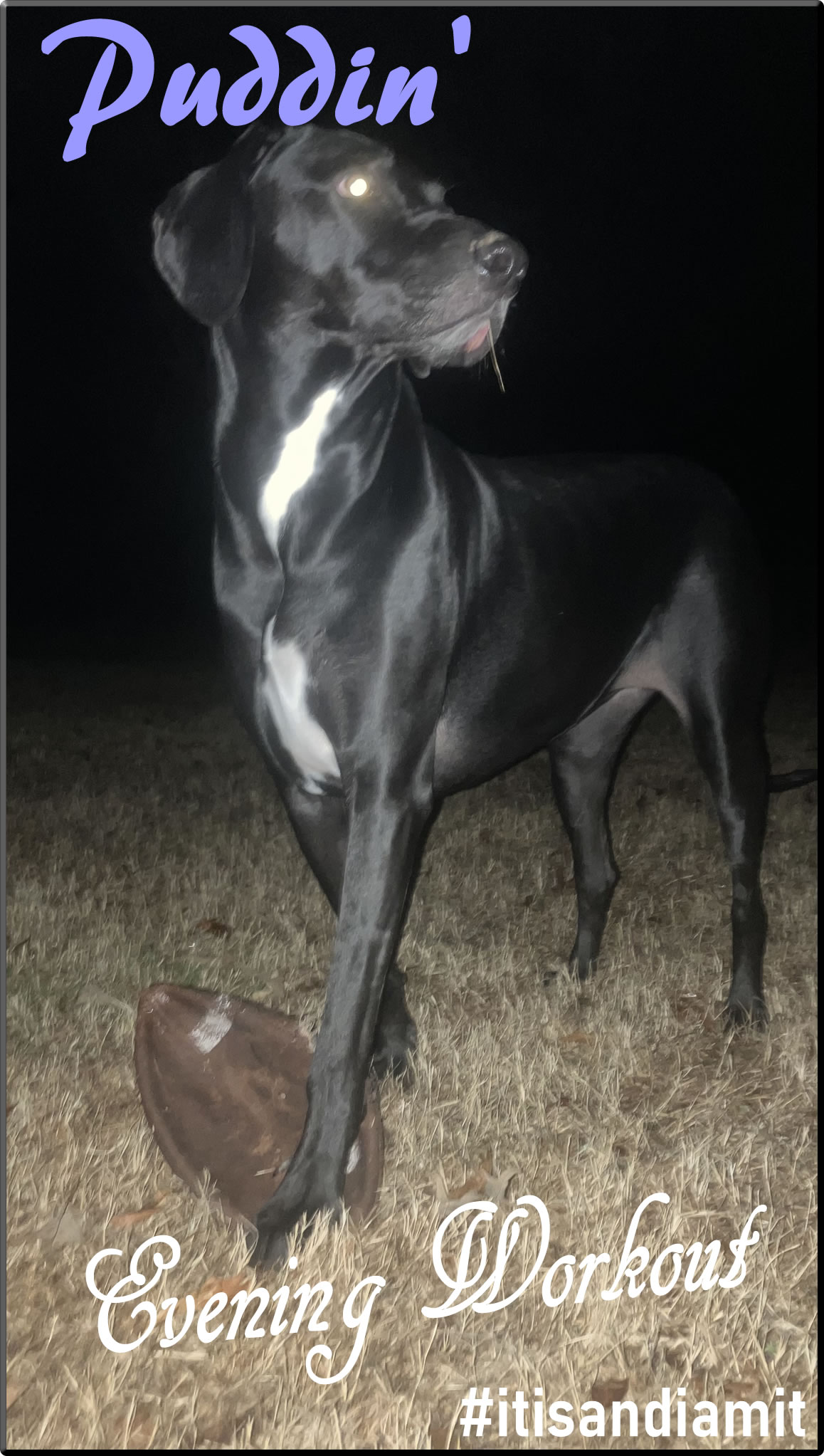 Giles County Bobcats 2023 Homecoming Parade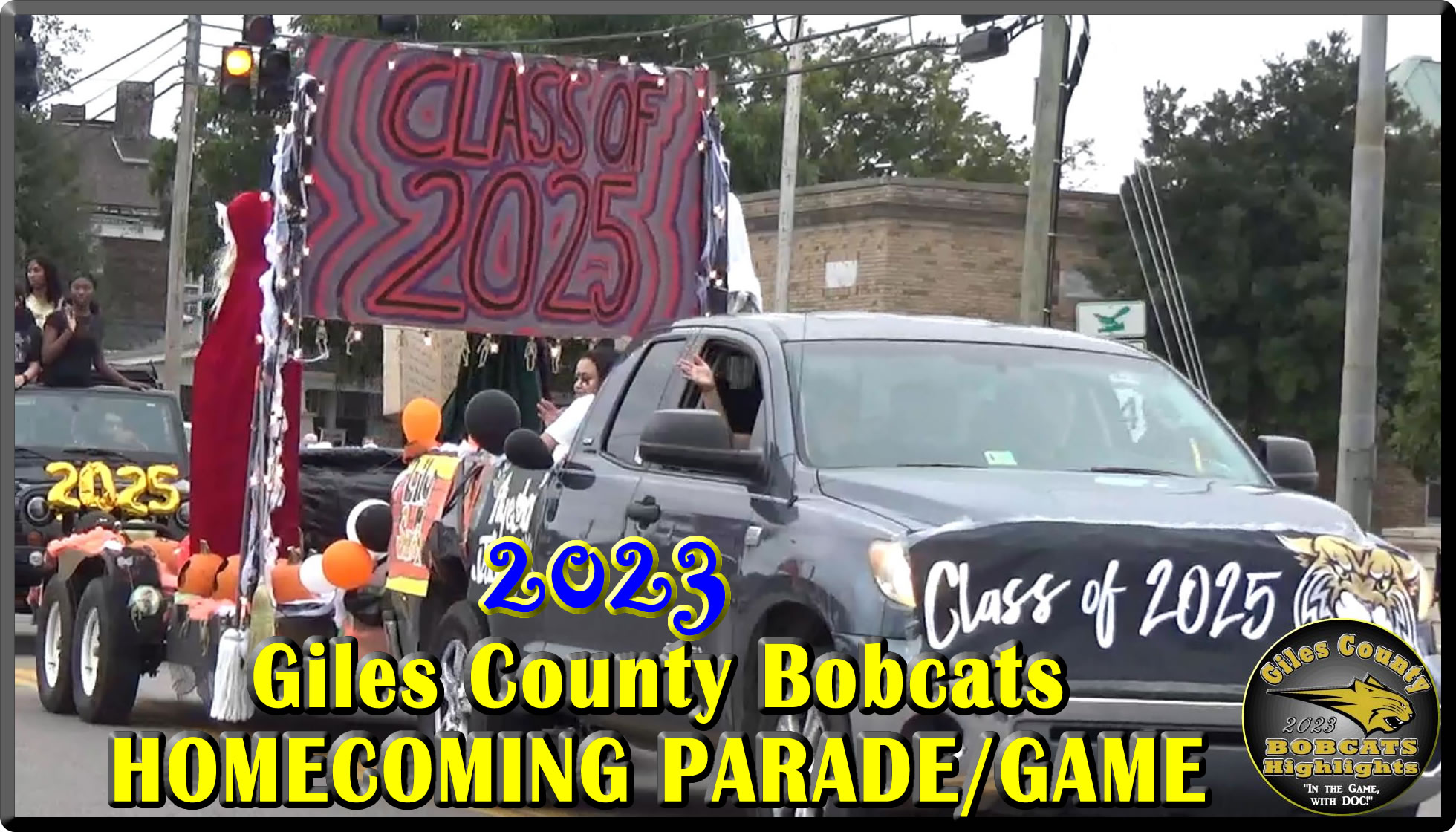 Let me know what you think?
Contact Me
#BobcatsFootball #inthegamewithdoc #itisandiamit #bobcats2023 Use those hashtags in any major search engine to find my content fast. 
CLICK HERE FOR MY GILES COUNTY BOBCATS YOUTUBE PLAYLIST
You can scroll down and find links to my past blog post and more.
" Sure, roadblocks happen, but with GOD in my life, I do not worry about any of them.  I know what will be, will be." 
Thanks for reading.  
Click Here to contact me.
  Attention: 
   Let me know which style videos you like the most, and what you feel I could do to improve my videos, and content.  If you have a team you would like to see highlighted, contact me with that teams info.  Also, if you are interested in Advertising, and would like for me to mention you in my videos, and on my Network of websites, then Contact Me.  
  --In the GAME BABIE, with D O C #itsinthegame #itsinthegamebabie
#itisandiamit , #ITisandiamIT , #CountryLife, #Puddin , #JoeytheCat , #docdidit, #DocsBlog , #Deep_South , #JerrytheTurkey, #louiecomestoplay, #PuddinsBackLegs, #countryboytrappin
---
Docs Blog Post #Deep_South #CountryLife 
Click Date to view Docs Past Blog Post
(List is oldest to newest)
May 9, 2023  (Giles County Bobcats Spring Training)
May 24, 2023 Bobcats Football Close Spring Training in a Bang
May 30, 2023 (Docs Updates and Newest Social Media videos)
July 30, 2023 (About High School Football Coaches Grading Game Tape After Game)
August 1, 2023 (Bobcats Football and Updates from DOC)
August 6, 2023  Giles County Bobcats Scrimmage Highlights
August 23, 2023 (Bobcats Season has Started)
---

---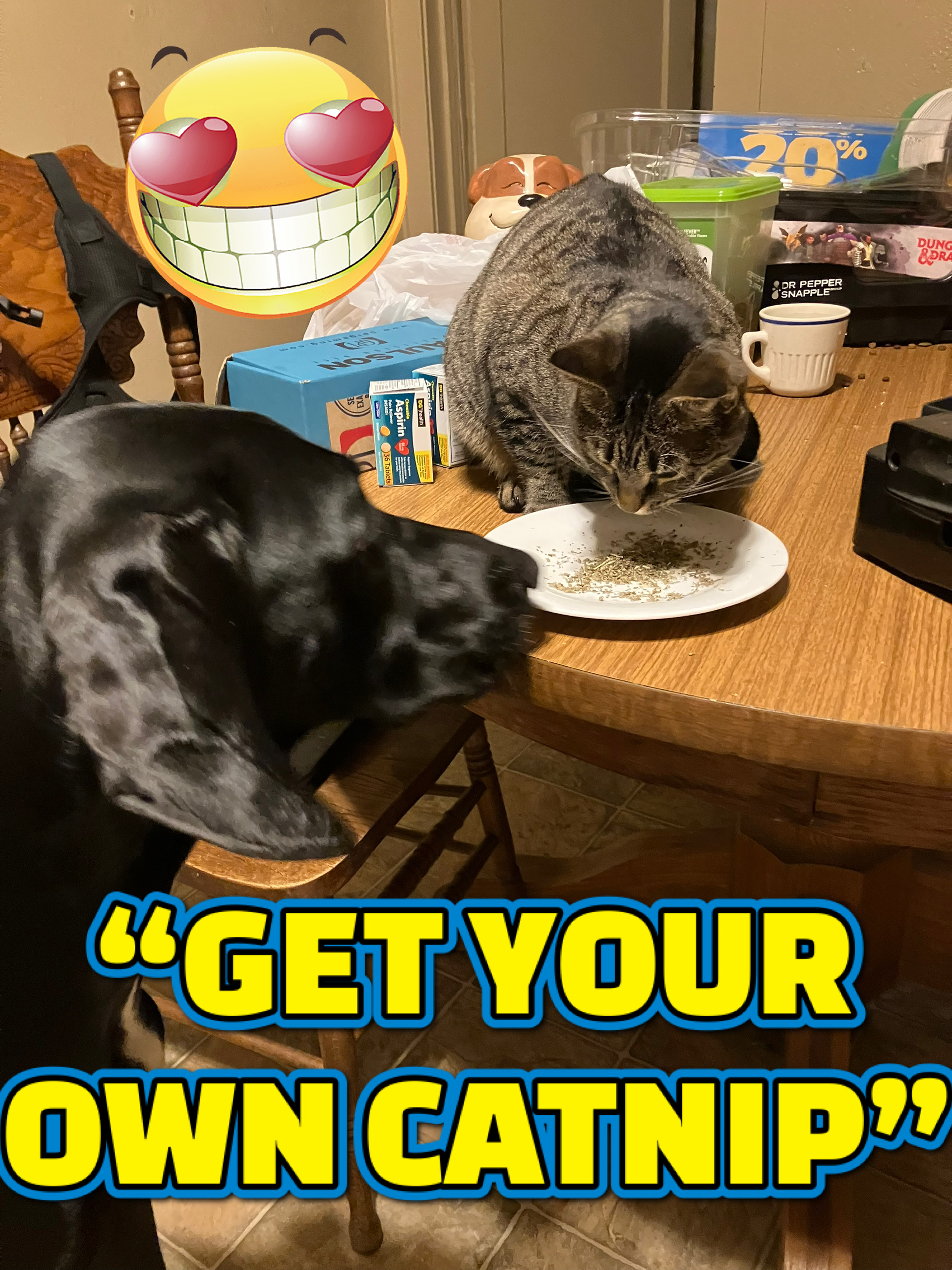 ---
---
#ITisandiamIT Content Links for Past Content and More
Another Early Content Video, I have remade it since:
HOT !! --  WOMAN THAT RIDES THE BEAST  -- MUST SEE!!