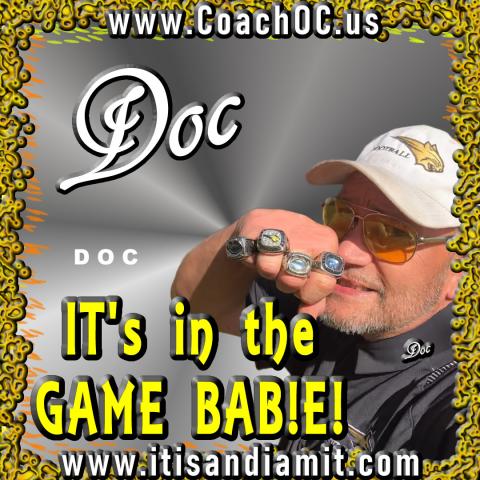 More About DOC 
  I have journeyed a long path, to reach this point in time.  After deep reflection, I realize that everything I have endured, and learned, has all been for a reason.  We each have our own Live's to live, and to attempt to understand: "Why?"
   I AM's work is perfection, and we are a creation of I AM, Our Creator. Therefore, we are perfection, mastered by Our Creator. Nothing which occurs, is a mistake.  All that IS, is. And, if it wasn't, then it would not BE.  
   However, from birth, we are stripped of this knowledge, and re-programmed with the Worldly Way's!  Yes - No. Right - Wrong. Good - Bad, Positive - Negative.  I know you have thought about this:  Do you think Our Creator created us, with any of these, in mind: NO or Yes/ Good or Bad?  These are creations, which we have created.  Though, we are Created Perfectly, we are not perfect. For, we have our own will, and a chance to choose how we live.  Though, I do believe it is all pre-set, and designed for us to learn. I believe we are mastering and retaining valuable knowledge, which will help us when we are re-born.
  There is no good, nor bad.  And, there is no bad, or good word.   Imagine this:  You were never taught Good and Bad.  Or, Right and Wrong.  You were only loved and cared for by those whom you loved.  There weren't no man-made objects, or currency which could be used to set us apart from each other.
   Think a little deeper now:  Imagine if we all were One big family, and we each only knew love and happiness.  We never learned the words: Right and Wrong!  Only Love and Compassion.  
Why do we have Bad Words?  This is another way to re-program and control us.  We only have the illusion that we are free, and can do as we wish.  However, from birth, we are re-programmed, and slowly pulled away from our real purpose in this World.
   Now, I do not mean run around using foul language.  At least, not until everyone understands there is no such things as a Bad Word.  Poop and Sh!t - both mean the same thing, and neither word has every actually caused injury to anyone.  Because someone does not like the sound of a word, does not make it bad.  Only we make words bad.  Just as we do almost everything.  
  Everything is designed to keep control of us, and to not allow us to reach our full potential.  We may never know the real answers to the questions we would all like to have answered.  Each of us are like moles, wondering in a dark cave.  Lost, and trying to find our way.
  One should never effect another's happiness, or right to live.  Live your life the best you can.  Strive to learn as much wisdom as you can, and never attempt to harm anyone, or effect another's happiness.  Always keep your word, and help as many people as you can.  The rich man  is not the one with all the money, but the man whom wants for nothing.  Be happy with what you have, and want for nothing.  
  I thank GOD, our Creator, and give GOD all the credit for everything.  Without GOD still giving me a chance, I would be a lost fool, trying to find my way in the dark.  GOD never give's up on you, and truly blessed me beyond anything I deserve.  I have been blessed with the skills to develop websites, and understanding computer technology.  My videos may not always be great, but I enjoy creating videos.  And I thank GOD for giving me the knowledge to create and share my videos.
  
SCROLL DOWN FOR MORE INFORMATION on Doc
---
    WAKE FROM YOUR SLUMBER! HAPPINESS AND PEACE AWAITS YOU!
   "Life has its up's and down's" a saying we all have heard. But in reality, "Life just is" There is no ups or downs.  Those are just label's, which we place on different moments of our life.  Until we label it, it just is.  Which it was from the very moment, it was.
   The next time someone starts to talk bad about someone who is not present, ask yourself what that person may have did, to make the one whom is talking about them, jealous.  That is why it is best to keep your mouth shut, unless you have something positive to say about someone.  We tell on ourselves, and speak truth, if someone only knows how to listen.  Even when we are lying, we tell the truth.  You will have to figure that one out on your own.  But, you will, one day.
  The man whom appears to be rich, is poor.  While the man whom appears to be poor, is rich.  All advice given, is not given with your best interest at heart.  Take head to trust your own mind.  We fool ourselves daily, and it is best to never think you know what is right.  Thoughts are cheap.  Action's are valuable.  Anyone can talk about what they are going to do. Trust those who lead by example, and not by words.
Doc's ( BIO)
  Thank you for visiting www.ITisandiamIT.com and for your interest in reading my Bio.  I am an opening book, and I try to share as much about my Life, and interest as I can.  I enjoy creating Websites and Creating Content.  You can Click the Social Media Link to find out more about all my Social Media Outlets, and please check out my YouTube Channel, and give me some Likes, and Subscribe to my Channel.  
  If you have a website, and you are interested in growing your Link Share, then contact me.  I will link to your site, if you will link back to my site.  This will help us both out.  And, I have over 12 Websites in my Personal and Client Website Network.  If you are just interested in letting me help you grow your Profits, then contact me.  I can help your Profits increase, by helping your Product get viewed my more people.  My motto is: "I don't profit, until you Profit."  Meaning:  I don't want any money, until you see that I have helped you.
  Again, I thank you for visiting, and ask you to please check out all of my Facebook Pages, as well as all of my websites.  If you are a Content Creator, and in need of a website then Contact Me.  I can work with-in your Budget, and it will be less than a $1000, then just 260$ a year for your website.  If you only want WordPress, or Drupal installed, and you will maintain the Site, then it is only $450, and then $360 a year.  The $360 covers your Domain Name, and server space.  -- Doc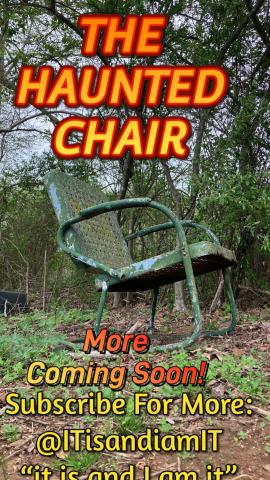 "GREAT NEW HAUNTED GHOST STORY, THAT YOU SAW HERE FIRST!"
I am working on my Book: "The Haunted Chair"   
---
You can CLICK on Any of the Below Social Media Platforms For:
@ITisandiamIT  |  @itisandiamit  |  #ITisandiamIT  |  #itisandiamit
FaceBook Page (New) You can find more info about myself, and Links to all my Content. Follow me, and I will Follow you back.  Please message me, so I know to Follow you back.
Reddit: I have more then one Community
r/ITisandiamIT | r/Prison_Stories_TN | r/strange_nights | r/Deep_South | r/positive_Happiness
---

More of Docs Website:
Better Built Homes of Alabama
www.Barndo.Pro
I am IT Website Design Hosting & Marketing
www.iamIT.host
Giles County Bobcats Football for Head Coach & Team
www.coachoc.us
High School Football Video Highlights
www.hsfootball.us
Docs English Bulldogs
www.DocsEnglishBulldogs.com
Irish Eyes Roofing
www.IrishEyesRoofing.com
My Personal Website
www.ITisandiamIT.com
  If you own a website, and you are interested in sharing Links, then Contact Doc.  IF you would like to advertise, then Contact Doc.
   MOTIVATIONA SPEAKING EVENTS
 If you are interested in having me come speak at your Event or to your Attendee's, please contact me for more info.  I am available for any Event which you feel me speaking, would help others.  
   Being IRISH/INDIAN, I am known to spring a good tale, an I have taken Public Speaking before, in college.  So, I would provide a Positive Motivational Encouragement Speech for your Event.
   It is important for people to find their inner-drive and know that they are part of something great.  I enjoy helping others find that inner-drive, and I am proof that you can rise-up from any situation you may find yourself in.  For it is in us to be successful, and Happy.  Both go hand and foot.
    I have open date's still available for this year.  So, CONTACT ME , an I will provide you with more info, or go ahead and Schedule a date for me to come an speak at your Event.  I welcome any Organization, School, Church, Business, Individual, Prison, or Team to the chance to have me come speak with them.  And I thank you in advance for allowing me to do so.  
    Please bookmark this Site and return soon, for I have much more to share.  I have a great story to share, and I feel that I have much more to offer this World.  Which is Why GOD has stuck with me, and kept supporting me.  I am thankful that GOD never left me, and I want to share my Story with everyone I can.  To help show GODS glory. -- Doc
---
UPDATE June 4th, 2023
Interesting in Advertising with Doc
Contact Doc
   If you advertise with me, then you know real eye's are seeing your Ad's, and I will include you on my Network of Websites.  And, I will share you in my Content Videos.  Local business owners, you will see the value of advertising with me.  Your profits and sales will increase.  If you are interested in Content Video Advertising, then Contact me for more info.